July 13, 2020
/
/
Comments Off

on Mobile Apps vs. Mobile Web: No Contest
As mobile app developers, we are frequently asked by clients why they need to invest in a native mobile app since they can build a mobile web page for a much lower cost. We always respond with the same rationale: the power of having an icon on the smartphone's screen, a device that never leaves their side, the ability to leverage the native functionality of the smartphone (location, phone, push messaging), and being confident in a user experience tailored to the device make this an easy decision.
Now, we develop mobile apps, so we realize some are suspect about our agenda when we make the case for them. So, the decisive factor comes to us from a recent study from eMarketer, who provides the ultimate reason why businesses must invest in a mobile app if they truly want to have a successful mobile strategy:
Americans spend 88% of the time on their phones with mobile apps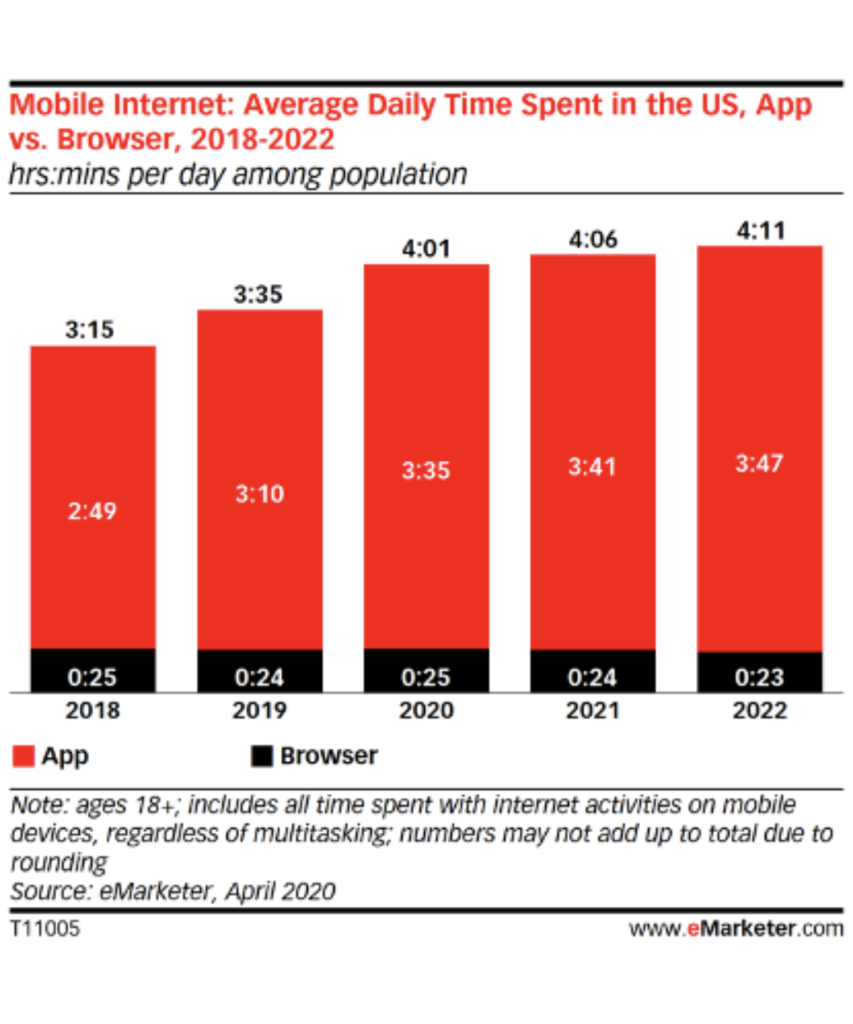 Not only do apps crush the mobile web with time spent, that number is actually growing. This trend has been happening for the past 5 years, and each year apps win an increasingly lopsided victory. The mobile web is still important – but primarily for what we refer to as "The Two S's:" searching and sampling. When the user is ready to commit, to buy, to enter into that relationship, they want your app!
A mobile app ensures your best customers have instant access to your brand, your content and the easiest way possible to engage with you. It also gives you a way to have a one-to-one relationship with those users, a way to know them, and serve them as the crucial customers they are.
Consumer expectations for brand interactions have never been higher, and the native mobile app makes it easy for your company to meet (and exceed) those expectations and deliver on the promise of your product. As the most-used device in almost all of our lives, the mobile platform enables you to develop a deep and lasting relationship with your customers in a way that a simple website simply cannot. When realized in an app, your product or service becomes a "tool" just like the camera or text in the user's device. It's a sure way to lock yourself in (and your competitors out).
Budget considerations are important, but so is ensuring your mobile investment is effective, especially during challenging economic times, when retaining each customer is imperative, the mobile app can create that bond. Our advice: if you're going to invest in a mobile strategy, make sure your brand is front and center and has the best possible chance of succeeding.
It's a safe bet.